The Indiana Eagles team astounded myself and many others this past week!  Their bravery and hard efforts are worthy of a big shout out!!  Way to go, Eagles!!
Their goal was to raise $1,000 for Riley Hospital as a part of a "Pay It Forward" project for one of the members on the team.  They not only surpassed their goal, they more than doubled it!  These teenage boys have raised more than $2,500 and more money is still coming in!!  The baseball team united to raise money in support of them shaving their heads in honor of Riley patients.  What a beautiful endeavor that I was so proud to be a part of.  Ch. 6 news came to Elaine's Salon in Fishers, IN (www.elainessalon.net) to capture the event, celebrate these boys, and encourage people to consider paying it forward.   Pizza was donated by Cooks Pizza and tshirts by LogoUSA Sportswear.
Thank you, Jack, and family for coming up with the vision for this event, making it happen, and encouraging the community around you to pay it forward.  Jack's sister, Kara, has a cystic mass called an Epidermoid Cyst in her brain.  They are monitoring it closely and she is doing well.  As they began this journey last September, their family began to realize how precious Riley Hospital is to so many families.  I love that Jack decided for his project to be in honor of his sister, Kara.  I hope and pray many kids at Riley will benefit from the love of the Eagles team and their families.
Here's a link if you feel led to donate online to help kids at Riley Hospital and to encourage the efforts of these teenage boys: http://www.firstgiving.com/fundraiser/indianaeagles13u/indianaeaglesshavinglids4rileykids
Check out the photos from the event below…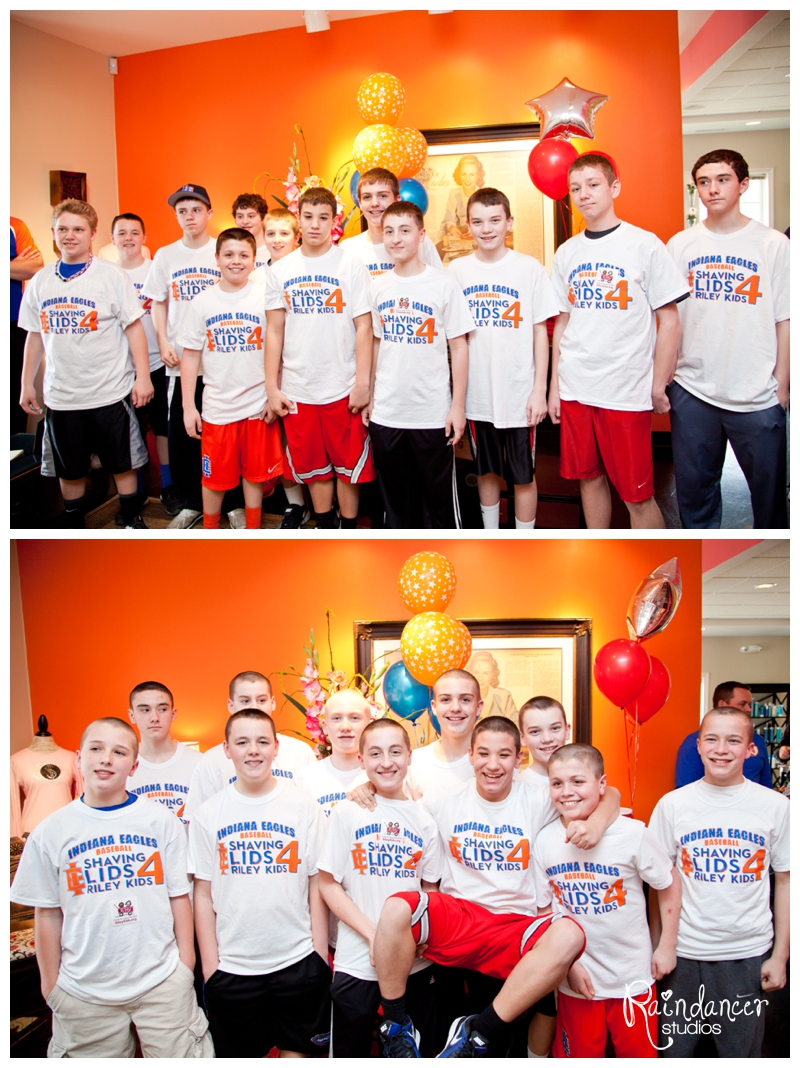 To those of you who participated in the event, you may download images at http://raindancerstudios.smugmug.com/Other/Shaving-Lids-4-Riley-Kids/28427897_F2XTrC