So, I did a thing! 🙂 After 9 years in business as a photographer in Indianapolis, I actually have an office of my own!!  It's my first official Raindancer Studios office and I LOVE it!  I thought I'd share it with you because it's been designed with love and care.  I had two goals in mind when creating this office space in my home.  #1 I wanted to meet the need of my growing business to better accommodate space for my assistant and my college photography intern.  #2 I wanted a space that I love to be in, that inspires me, and encourages greater productivity and focus.
Prior to this office, I would work at a desk in my bedroom and when I couldn't stand it, I'd move to the kitchen table.  And on days when I just wanted to lay in that bed beside me, I would go work at Starbucks. 😉 So for me, this is huge.  I'm so thankful for my supportive husband who helped make it all happen and of course to IKEA, Target, Hobby Lobby, and Kohls for the design and decor!  Read a long and learn a little more about me…
Because my hubby is in IT, we have double monitors at both work stations.  My assistant works on my laptop and I work on my desktop.  The table in the middle is amazing because it is an open space for working but also for our 4 girls to use.  They do homework, puzzles, crafts, play games, and the like at that middle table. I love this scripture because it has some Raindancer Studios colors on it, it's in the same shape as my logo, and it's encouraging.  Oh, and the room is bright to uplift me and motivate me.  It's one of my favorite colors…and it is one of Raindancer Studios colors!! 🙂
I have chosen to fill my space with things that make me happy and bring me joy…like my cute little teal clock. I have filled my space with some live plants because I love real things! My Raindancer Studios quote/motto is posted along with the vintage umbrella I used at my wedding and a camera decoration one of my best photography friends gave me.  It's the perfect touch!
I included the sand from our wedding blending ceremony with our girls and a photo of us from that day showing the different colors represented according to their dresses.  I just love my standing shelf.  The eclectic baskets, some of my favorite books, and more plants make this corner one of my favorites!
The office is on our main level of our home next to the kitchen.  You can pray for me during summer breaks.  Lol.  Thankfully I kept a small desk up in my bedroom that I may retreat to when the kids are cray cray.
The flower photos I took about 10 years ago.  I love them because this was my first love…photographing nature.  Before I started a business I enjoyed photographing the world around me.  It reminds me of my roots.  I also have my Young Living diffuser going on a daily basis.  I bet you didn't know that I am a distributor and can hook you up!  I am not a pushy sales person, but I must say that I do love these oils a lot.  Let me know if you want to know my favorite oils.

The key to my life is in this google calendar.  We are a home that operates with a bajillion calendars.  Ok, not a bajillion, but 6 beautifully colored calendars.  1 personal for me, 1 for my hubby, 1 for my daughter and her Dad, 1 for Rob's girls and their Mom, 1 for my business, and 1 for my studio.  Yes, it overwhelms me at times but then I just turn the view of one week at a time and I can breathe again.  With a blended family, this is our lifeline…our sanity.  It helps my hubby and I communicate better.  It helps me not forget all the things!!!  OMG…there's a lot of things.  I am most definitely a chaos coordinator.  I've learned in the past year that colors make my life happy.  So I also have colored pens I use for my to do lists and colored workflow sheets to help ensure things don't fall through the cracks.  
My wonder woman cup is used on a daily basis filled with water or iced coffee because wonder woman inspires me to fight the good fight each day. I have a cute colorful favorite blanket of mine on my chair because apparently I'm an old lady now.  I use a blanket whenever I'm sitting at my desk in all seasons.  Lol. I admit to having a space heater by my desk, too.  My side wall has a cute holder for mail because I was tired of looking at it on my kitchen counters.  It has dry erase boards, a blank calendar for my viewing pleasure, a photo of my word of the year to remind me of God's goals for me this year, and centered in the room is this awesome light fixture I found on Amazon! 
Colorful weekly goals sheets helps me to stay task oriented and goal focused.  Without them, I wander and get lost in the shuffle of life.  They have helped me so much in my business.  I put a few of my favorite books out because I lived in boxes in small housing options as a single mom for almost 5 years and it made my heart happy to put some on a book shelf!
These right here are three of my favorite parts of my office.  Rob and I dressed up as Superman and Wonder Woman our first Halloween together.  So when these dolls came out they were a must have!  They are set next to a frame of crazy fun moments together to remind us to keep pressing into having fun in our marriage.  I also have placed our sand bottles from our trips we've taken together.  There's a cross in the center of the room because God is the center of my life.  And the quote…it's my life motto so it reminds me to keep thanking God no matter what.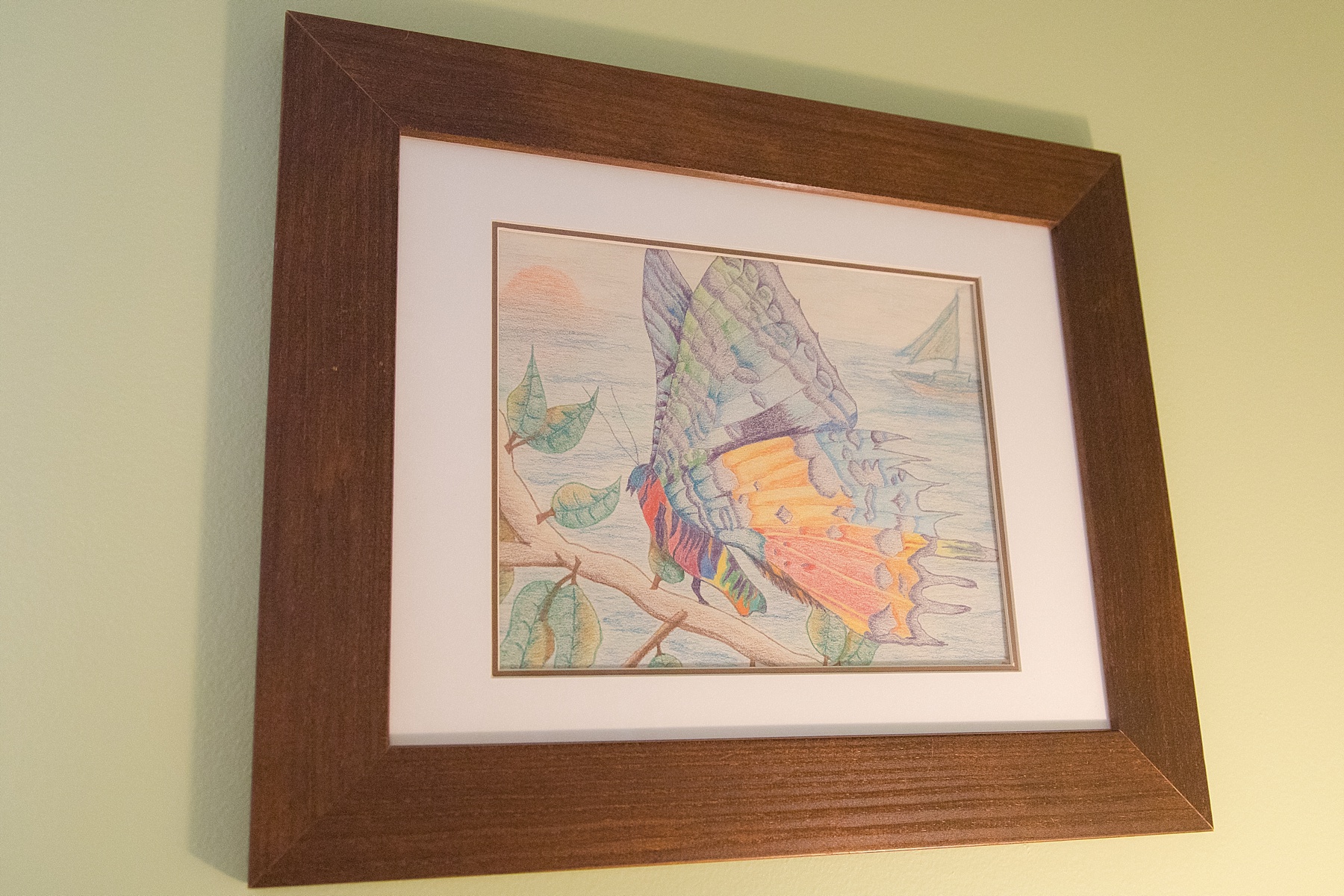 So a little tid bit you might not know…I used to create a different kind of art before photography captured my heart.  I actually made this butterfly way back in high school.  I've always had it hung up through the years.  After doing art in high school and in college I painted for fun.  I've actually painted a couple wall murals, too.  Creating art is still a love of mine, but I just don't have time to explore the other arts as much these days.
On long working days in my home office I try to fill out this daily focused sheet.  I don't do it every day, but when I need to refocus and break my big list of goals into bite sized chunks, this is what I use.  I love it because it also helps me focus in on some personal goals, things I'm thankful for, things I'm excited about, 3 main tasks to complete so I can remind myself if I finish those 3 main items it's a good day…the extra to dos are a sign of a kick butt day!  I have a cute little bucket for bills and important items to not forget to take care of with most important in front.
So that's it! This is my cute little office that has been designed with love and care to become a space where I can flourish and thrive, just like my plants!! 🙂 To learn more about me and my style of photography click here to check out my about page!